Are you ready for
something really different?



CHIMAL CIRCUS ARTS SCHOOL!
Circus Isn't What We Do; It's Who We Are!
Students will experience the true circus atmosphere by learning routines of various disciplines. All circus arts activities are taught by real circus professionals. Fitness, Agility, Balance, Strength, Self-Confidence and Coordination are the side products of the circus. Students will work under a circus tent and study the basic skills of circus arts. They are given the opportunity to challenge themselves, while at the same time having fun.
We provide:
Classes At Our Facility As Well As At Schools
Spring Break & Summer Camp
Mobile Circus Arts Program For Any Event, School, Daycare, & Camp
Entertainment For Private Parties & Corporate Events
Rental Of Our Circus Arts Facility With Package Options Available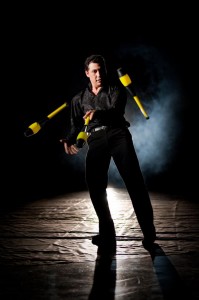 Our Director, Alex Chimal
was born and raised in the circus. He is a 4th generation circus professional who has been performing since the age of 3. He is a world class juggler, flying trapeze artist, aerial artist, acrobat, tumbler, clown and is master choreographer in the circus arts. Alex has performed other great acts such as Teeterboard, Russian Swing, Slack Wire and High Wire. Alex still performs professionally, performing in Mexico, South America, Canada, & United States. He has coached circus performers for 17 years. He also currently works at Northland Christian School as a coach and coaches gymnastics at a competitive level for a local gym. As an international, professional circus artist for over 25 years, Alex has developed a unique blend of teaching that incorporates traditional gymnastics and the circus arts.
Stacy Orlando
helps coach here at Chimal Circus Arts. She is trained by her husband, Coach Alex in the Circus Arts and is fully trained in safety, stretching, and dance technique. Stacy danced, performed and competed in dance for over 12 years before going off to college. Her awards include invitation to perform in the Rose Bowl, 1st runner up dance ensemble 1992 state competition and 1991 Winner of National Champions Dance/Drill Team Competition in California. Stacy keeps up to date on the latest dance styles and continues her passion for Latin dance and ballet. Her educational expertise includes earning her BA in Communication Disorders for Speech Pathology. She is excited to pass along her knowledge and love of dance and performance to your child.